The Making Of "Bill's Waltz"
by Gene Perla

At some point, an idea presented itself to me: orchestrate Elvin Jones' drums. This was sometime during 1986, when I was living in Woodcliff Lake, New Jersey with my wife, Korinna and our two children, Cristina and John. Not one to let grass grow, I called Elvin and put in my request. He agreed. Yahoo!
Having played with Elvin for the first time (on piano) at the old Five Spot on East Eighth Street in New York City circa 1965, it wasn't until 1968 during a live impromptu WGBH-TV Boston performance, filling in for a missing-in-action Jimmy Garrison, that I became fully aware of the complexity of Mr. Jones' drumming. Listening to that old recording, I can hear my electric bass exclaiming bewilderment at where the hell "1" is. When I got the call to join his group in early 1971, I embarked upon a two and a half year adventure that set the stage for the '86 call.
Of course, I had heard many of Coltrane's recordings and even heard the Classic Quartet live (albeit only once), but until I had a chance to lay my hands directly upon Elvin's propulsion, I was in the dark as to what forces existed around my contributions. I've remarked on many occasions that it took me a good six months to come to the point of saying that I could now play with this fellow.
Hi-hat? Forget it. And the drums? Nah. Everything was always swirling and continuously changing, leaving his ride cymbal as the focal point. Those "pings" denoted the time, but when they disappeared it forced me to take responsibility to establish where I thought the pulse was. With each passing hit, it slowly evolved. Whatever strength I have comes directly from those days and nights with the world's greatest jazz drummer.
One more prep for the ensuing story was my long association with my best friend percussionist/drummer Don Alias. And we were best friends for over forty years. Alongside Don, I gained the invaluable experience of knowing Latin music. Beating in two when playing 4/4 is a powerful element in controlling the time. There were other experiences with Chick Corea that also helped my understanding of time, but let's move on.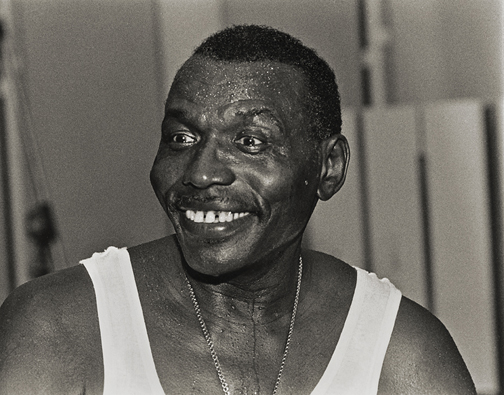 Photo by Richard Laird
So Elvin agreed! We two entered a New York City recording studio on November 4th and 5th, 1986 with me on Fender-Rhodes keyboard and Elvin on his traps. I asked to be isolated with gobos and headphones resulting in the fact that my keyboard strokes can't be heard on the drum tracks. During two back-to-back days we recorded ten tunes – nine of mine plus "I'm Popeye The Sailor Man." By the time we arrived at a ballad on the first day, Elvin, being a drinker, was really relaxed, if you get my drift. On the following day, when it was over, he said that we should keep going and record more stuff "tomorrow." He was really into it. In another one of those grand errors in Perla's judgment, I said, "Nah, I've got enough for an album."
What truly amazed me is that except for two tunes that I had previously recorded with Elvin (and "Popeye"), he didn't know the songs. But what an ear he had! Without reading music, once, maybe twice through, he had it perfected. What a marvel. Listening to just the drum tracks themselves is another astounding experience.
[For some of you old folks who might be wondering about the brand of tape, the basic tracks were recorded at 30ips on 2" 16-track Ampex tapes.]
So here I was with these masterful drum tracks and dancing, sugar-plum sonorities in my head, and what could be done with MIDI and those churning rhythms. Next up was asking my buddy Don Alias to overdub some congas on the two Latin-jazz songs, which he did on December 4th. Not long afterward, wanting to have something to play back and begin work on, I did a very good rough mix of the drums and congas onto the six tracks of a Sony F1, the first portable, digital recording system at that time. On one of the two analog tracks I transferred the Fender-Rhodes. For good measure, SMPTE was laid onto the other audio track.
Now, Rip Van Winkle took over, and the project found a home from one shelf to another until sometime in the mid-90s when I decided to re-transfer the 2" multi-tracks to my first Protools system. We got all set up, checked all signals and started transferring the first tune. As we were listening and talking about life, the engineer and I suddenly became aware that the music was slowing down. What!? Going to the multi-track and un-threading the tape, we found to my horror that the Ampex tape was shedding. The metal oxide was coming off the polyester backing. Ack! I freaked. Turns out that a particular batch of Ampex tape was poorly manufactured, and I was caught in that quagmire. After some research regarding the baking of tapes in this condition, I decided to put the project on hold and lick my wounds.
As 2006 unfolded, I came to the conclusion that I had better get going on this work or perhaps run out of life. Listening to the F1 convinced me that, with some delicate compression and EQing, I could deal with the stereo mix of percussion. Off to Protools it went, and I began overdubbing MIDI flutes, trombones, etc.
During a six week trip of Europe that summer, I worked a gig in Flims, Switzerland with drummer Danny Gottlieb, who is an Elvin fan (what drummer isn't?). Playing some of the rough tracks on my laptop for Danny led him to suggest a possible interest from the NDR BigBand of Hamburg, Germany. He introduced me to them, and a deal was struck. In May of 2007 I rented a flat in Paris for one month to arrange and orchestrate the songs, and in the following July traveled to Hamburg to conduct the charts. "Popeye" was given to Bill Warfield for his special arrangement.
With headphones, the BigBand recorded their parts organically except by adding click tracks at the retardations. None of the original Rhodes tracks were kept. My bass parts were recorded separately throughout 07-08. Elvin's drums were hardly edited as I made it a point to arrange the band to fit with his groove. The horn groups required quite a bit of editing, but the solos were virtually untouched. As you might imagine, fitting to Elvin's groove was, at times, not that easy. But in four days, never having had the opportunity to play with him, these fellows did a great job.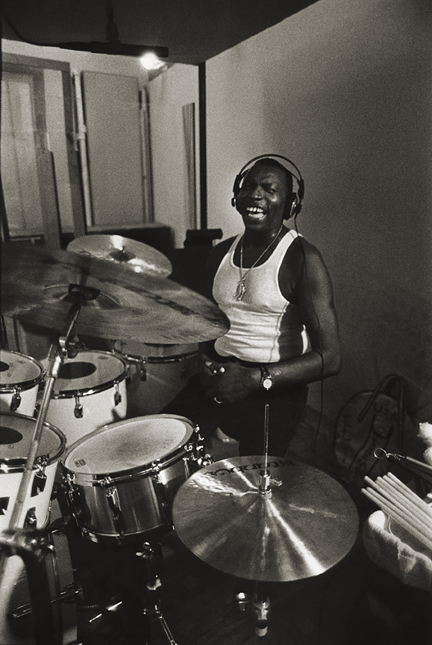 Photo by Richard Laird
Some of the negotiations included signing agreements for recording my songs, conducting the BigBand and copying the parts, which was accomplished by using Sibelius. As all the songs but "Popeye" are under the control of my publishing company, there were no royalties to negotiate with third party publishers except for "Popeye." This was a simple matter resolved by dialing up the Harry Fox Agency online, and with a few questions answered, and a credit card, we licensed the song for use on my CD. Apple pie. Additionally, another license was negotiated which allowed me to use the NDR's recordings for editing, additional overdubbing, final mixing, and offering the album for sale on my P. M. Records label.
The license includes provisions of royalty rate, advance against royalties, NDR's usage for their radio & TV networks, my label's ability to make and sell CDs and downloads, renouncements of liability, required packaging elements and free specimen copies. A simple deal. Note that taxes are somewhat of a hassle what with asking the Feds for a confirmation of being a law abiding company every year when doing business overseas and south. A worthwhile endeavor to avoid double-taxation.
Except for two and one-half months spent in Europe this summer, we worked on the project for a year at various levels of intensity until finally finishing it in August. The first five weeks involved the major editing, using Protools and assorted plugins. Seeing what can be done these days – as opposed to working with a razor blade – one realizes the truly monumental advances that have been made. As we were working, I began to view the entire recording as a sample, as if the tracks were MIDI information, with the ability to be sliced and diced with dazzling results.
The release date was September 9th, Elvin's birthday. Now, the tough work begins. Somehow, the world needs to know that this music exists. This article is part of that process. Its time to follow the MAP again (Marketing - Advertising - Promotion). Hello radio! Hello publications! Hello writers! Hello fans! Fans are everywhere and respond well if the product is good and that it gains Net visibility. It's unending. It's like prospecting for gold. There are gazillions of hills out there, and they keep popping above the surface exponentially. Some of them contain the yellow ore: Web sites, social networks, etc. and are available to those who desire it.
About my songs: they were written at various times including compositions celebrating my children and other special people, life forms and conceptual experiences. Arranging and orchestrating them was a thrill, particularly finding paths that would lock up with the pre-recorded percussion. Having nearly no conducting experience, I took my cue from the shoulders of Thad Jones. When playing with his and Mel's big band, it was Thad's gentle and very deep rocking from side to side that, in my estimation, gave the band a groove to die for. I think that approach helped me in conducting the NDR BigBand.
"Bill" is Bill Evans. Upon hearing his "Sunday at the Village Vanguard," I resolved to become a jazz musician.
Elvin liked to play march beats. I once did a gig with him at the Horn & Hardart on 57th Street in New York City. Prior to the gig, Elvin and leader David Amram went up to Central Park to "drum up" business. Standing outside, waiting for them to return, I witnessed a spectacle that I wish had been image recorded: Elvin, with his blasting snare drum, somehow strapped to his waist, and David blowing piccolo, rounded the corner marching down the center line of 57th Street with a happy group of people following. As they neared the joint, Elvin's face was beaming with that wild, happy look of his. One of a kind. That's why the "Popeye" march was included.
Sep 08
| | |
| --- | --- |
| | Born in 1940, Gene Perla is a jazz bassist/educator located in eastern Pennsylvania. In addition to playing his basses, his duties include teaching music business at Lehigh University and The New School University, running his Internet design and hosting company, and producing for his record labels. |